advancing to MSI
From left to right are: jungler Shernfire, top laner Chippys, midlaner Phantiks, AD K1ng and support player Destiny
First of all, congratulations on advancing to MSI, can you tell us how you felt when you succeed?
Chippys - I felt so happy because the time and effort I put into being the best player I could be made me feel so confident on stage that I knew during the finals that there was no way I could lose.
Shern - I felt very grateful to be apart of this team and organization everyone put in a lot of work to get to this point.
Destiny - It felt fantastic knowing that all our hard work and effort had paid off. Now we need to focus on doing our best at MSI and learning from our mistakes in the finals.
k1ng-I felt a sense of relief and gratitude as winning the OPL is something I always envisioned myself doing for a long time and finally doing it is a huge weight off my shoulders.
Phantiks went a bit emotional on stage, can Phantiks tell us what was he thinking and feeling on stage?
Phantiks - When we won I thought about how much we have worked and effort put into this split; also thought about how fortunate I am to work with such hard working teammates, which really moves me.
This is your first time at international stage, where do you see yourself land?
Chippys - I can see us winning our group and making it onto the big stage.
K1ng- I have belief in our team to make it out of play-ins and into the group stages. I think our level of play is high enough to beat most major regions.
Destiny - Nobody expects anything from our region so there isn't any external pressure. We're definitely the dark horse of the competition and I see us advancing out of groups.
Shern - I see us beating every region except Korea
Do you think compete at a different country would affect you guys in anyway?
K1ng - We will spend most of our time in the training room so the only factors that could hinder our gameplay are jetlag, fatigue and potentially illness.
Chippys - I think playing in a different country doesn't matter since if we are the best team in our group we will win anyway.
Destiny - The only thing that could affect us is jet lag and tiredness as we'll be travelling for over 30 hours, i'm sure after a good sleep we'll go back to normal.
Shern - Besides travelling for a long time from Australia to Brazil and playing infront of a crowd its going to be the same as playing in OCE. My mindset will stay the same nothing will change.
Training base
As the first team to get sponsored by a big name brand(LG),can you tell us how that changed your general training environment ?
We had a massive step change in 2017 with greater support from LG. LG's support brought us under one roof in Pyrmont, enabling us to focus on improving. It's also provided us with cutting-edge hardware to complement our capabilities. This has paid off as we are now leading the competition locally.
While we have strong hand-eye coordination, we still need the technology to support our capabilities. Key features - such as 144Hz fast refresh rate, 1ms motion blur and UltraWide viewing - have created a positive and significant impact on how we train and compete, and has given us a competitive edge over other teams.
How do you guys train before that(like in a internet café or ?)What obstacles have you overcome?
K1ng - I was one of the first players to be in a gaming house and the main form of practice back then was playing from home and using teamspeak.
Destiny - We trained in our gaming house throughout the regular season. Most teams in Oceania stopped scrimming after the final so we've been using this time to refine our skills in Solo Queue, scout our opponents and scrim whoever we can.
Shern - We only have 2 weeks to prepare so we are are going to scout the 3 teams we are going to vs and refine our play make sure we're fresh when we play.
What the most inconvenient thing before you had a big base house?
Phantiks - Australia is really outdated, I used to get crazy lag when I practiced at home.
K1ng - Internet issues and school commitments.
Destiny - Being away from Friends & Family
Shern - internet, Australian internet sucks
Chippys - Having to work a part time job while playing competitive.
What changed after you moved into the base?
K1ng - Moving into a gaming house allows every player to dedicate almost all their time to the game and also excels improvement as each player is in person with each other which allows communication with staff to be streamlined and efficient.
Destiny - We think about the game everyday, it's our only focus of attention so being in a gaming house allows us to practice effectively and improve at the fastest rate possible to achieve our goals a team.
Shern - I live and breathe with my teammates so we work together to achieve a goal 24/7
Chippys- Only needed to focus on the game, no need to worry about work or money
You guys went boot camping in korea a while ago, can you tell us how you feel about that?
Phantiks - Our time spending in Korea boot camp really opened up my eyes, I can finally understand how good LCK and LPL players are. Now I know how much I have to improve in order to be world champion.
Destiny - Boot camping in Korea was a very eye opening experience for me personally, I could see where I was at in comparison to the rest of the world. I pushed myself to improve at the fastest rate possible by playing as many games as I could but it was ineffective. I felt like I improved more after Korea back in Oceania where I tried to replicate what I was learning.
K1ng - The bootcamp in Korea really did give perspective on the skill cap that is possible to reach in League of Legends. Playing with the best players in the world showed me how low level my gameplay is and how much better I need to be to compete with the best.
Chippys - Korea made me realise how good people can become at laning, getting destroyed by SKT Profit really opened my eyes about how much better i can become in lane.
Shern - So I practiced in Korea for 9 months it was the worst time in my life but also life changing experiences that changed me to become a better person, it was a good learning experience.
How do you think this boot camp helped DW advancing into MSI?
K1ng - The bootcamp was a constant reminder to everyone that went, that you cannot be comfortable with your level of play because there is someone who is at a higher level. It pushed us to try become the best we could because we knew that we could always become better.
Chippys - Yes the bootcamped strengthened everyone's mental state because we were getting destroyed in a lot of scrims and solo queue games so our mental had to become strong to not tilt every game.
Destiny - Yes the Bootcamp was definitely beneficial to us advancing into MSI. If we never went to Korea we wouldn't have been able to acquire Shern and we probably wouldn't have been good enough to win this OPL split.
The bootcamp helped improve our individual skill and get use to living with each other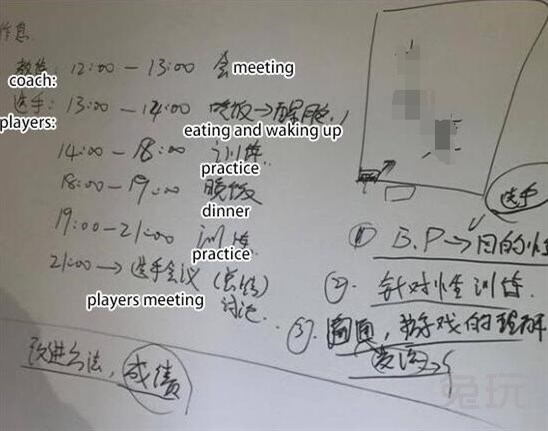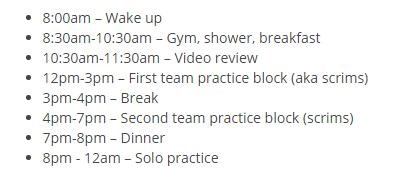 The pic above is EDG's training schedule 2015, below pic is your schedule when you were interviewed in February. Can you tell us how important do you think getting up in the morning is for you?
Do other OCE teams have same schedule as yours?
Destiny - I think it's very important to wake up early and have a routine so that your body and mind are prepared to practice and learn everyday. The other OCE teams aren't as disciplined as us and I feel this makes their gameplay inconsistent similar to their lifestyle.
K1ng- The most important thing about a schedule is that you adhere to it and make it your lifestyle. Discipline is the most important thing for improvement, so being able to pull yourself out of bed is the least someone can do to have a good schedule. No other team in OCE has a schedule as intense as ours.
Shern - Yes getting up in the morning allows you to do things you want to do in the morning before you start practicing, other oce teams do not have the same schedule i think because they aren't disciplined enough to wake up early.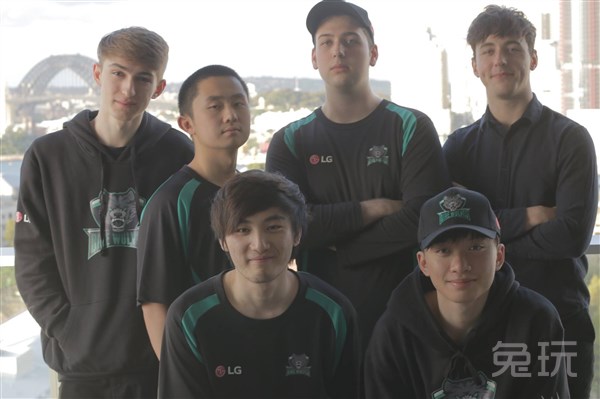 Fan Culture
In LPL, we have some cute girls holding billboards and lighted name tags to support their beloved teams and players(as you can see below), so can you tell us what is the viewing culture like in OCE?
K1ng - There is no live audience in OCE so we do not get to see fans. Our viewership on streams is also very low.
Chippys - Oceania doesn't have many fans at the moment so no cute girls holding billboards
Destiny - Oceania is still growing in terms of viewership, there was no live audience for our final so most fans were using online social media such as Twitter to support us.
Shern - Oceania is still very young there isn't any supporters on stage only online which sucks thats why winning infront of a crowd at MSI is going to be amazing
Would you like your fans bring this to the studio to support you?
k1ng - I would love to see fans before I play and while I play, it is a great motivator to be able to entertain fans.
Destiny - I would love it if my fans were to support me in the studio, I greatly appreciate anyone who would go out of there way to cheer me on :)
Shern - Posters and fan art are very cool I like girls as well
Player themselves
Can each player tell us who they admire the most in their respective position(top, mid etc.)?
Wish you guys have an awesome experience at MSI!
Phantiks - Thanks! We will fight hard.
Shern - THANK YOU
Destiny - Thank you very much :D +
K1ng - Thank you very much, I hope to be able to impress everyone at MSI.